We're Getting Mutants in the MCU - The Loop
Play Sound
The Melody Maker was Gibson's most inexpensive solid body electric model, slotting below the Junior. It was originally introduced in 1959 with a body shape similar to the single-cutaway Les Paul Junior, and a narrower headstock design that makes it cheaper/easier to build by not requiring wings to be glued on like the regular open book headstock. This changed to the double cutaway Les Paul style in mid-1961. It wasn't until late 1966 that it finally adopted the SG bodystyle. A 12-string and three-pickup version were added in 1967. In 1969, the 3/4 size model was discontinued and the headstock was upgraded to full-size.
In 1971, the Melody maker was effectively replaced by the short-lived SG 100/200/250 models.
In 2011, it was reissued with the SG shape and a Maple body.
1966-1968

1966:

$149.50
$149.50 (3/4 size)
$179.50 (Two-pickups)

1967:

$159.50
$159.50 (3/4 size)
$189.50 (Two-pickups)
$189.50 (12-string)
$199.50 (Three-pickups)

1968:

$169.50
$169.50 (3/4 size)
$199.50 (Two-pickups)
$199.50 (12-string)
$214.50 (Three-pickups)
Body:
Beveled, solid Honduran Mahogany body
Angled heel
Nitrocellulose Lacquer finish
Neck:
1-pc quartersawn Honduran Mahogany
Natural finish
Color-matched (less common)
Set-in construction
Indian Rosewood fretboard

Acrylic dot inlays
12" radius

Melody Maker headstock

Gibson logo decal
14o pitch

22 frets
24 5/8" scale
1 9/16" nut width

Electronics:
One single coil pickup

AlNiCo (probably V) magnet
6.5 - 7.5k Ohms D.C. resistance

Two single coil pickups (Melody Maker D & 12)
Three single coil pickups (Melody Maker III)
1 Vol, 1 Tone

CTS pots
Ceramic capacitor

2 Vol, 2 Tone (Melody Maker D, III & 12)
Hardware:
Chrome hardware
Kluson 3-on-a-plate tuning machines

12:1 ratio
Chrome or white plastic oval buttons
Closed or open gears

Single-ply white pickguard
Bell shaped truss rod cover, single-ply
Black Reflector knobs (late 1966 - mid 1967)
Black Witch Hat knobs
Nylon strap buttons
Compensated bridge

Compensated for wound G string

Short Maestro Vibrola
Stop tailpiece (12-string)
Finishes:
Pelham Blue
Fire Engine Red (1966)
Sparkling Burgundy (1967-1968)
1969-1970

1969:

$179.50
$212.50 (Two-pickups)
$210 (12-string)
$225.50 (Three-pickups)

March 1970:

$195
$225 (Two-pickups)
$225 (12-string)
$245 (Three-pickups)

September 1970:
Body:
Beveled, solid Honduran Mahogany body
Angled heel (early 1969)
Nitrocellulose Lacquer finish
Neck:
1-pc quartersawn Honduran Mahogany
3-pc laminated Honduran Mahogany (mid 1969-1971)
Set-in construction
Indian Rosewood fretboard

Acrylic dot inlays
12" radius

Melody Maker headstock (early 1969)
Open Book headstock

Body color matched
Volute (Late 1969-1970)
Gibson logo decal (1969-1970)
Inlaid Mother of Pearl Gibson logo (1970)
14o pitch

22 frets
24 9/16" scale
1 9/16" nut width
Electronics:
One single coil pickup

AlNiCo (probably V) magnet
6.5 - 7.5k Ohms D.C. resistance

Two single coil pickups (Melody Maker D & 12)
Three single coil pickups (Melody Maker III)
1 Vol, 1 Tone

CTS pots
Ceramic capacitor

2 Vol, 2 Tone (Melody Maker D, III & 12)
Hardware:
Chrome hardware
Kluson 3-on-a-plate tuning machines

12:1 ratio
White plastic oval buttons
Closed gears

Single-ply white pickguard
Bell shaped truss rod cover, single-ply
Black Witch Hat knobs
Nylon strap buttons
Compensated bridge

Compensated for wound G string

Short Maestro Vibrola
Stop tailpiece (12-string)
Finishes:
Walnut
Pelham Blue (12-string)
Sparkling Burgundy (12-string)
2011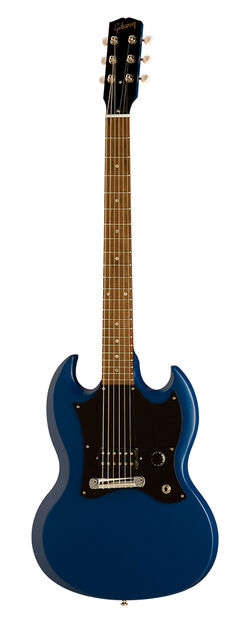 $829 MSRP
$539 Street
$449-499 Street (2012 price drop)
$399 Street (2012 clearance)
Body:
Beveled, solid Maple body
Satin nitrocellulose lacquer finish
Neck:
1-pc quartersawn Mahogany
"Melody Maker" profile (.835"/.930")
Set-in construction

Franklin Titebond 50 glue
1.75 degree angle
Joins body at 19th fret
Baked Maple fretboard

Acrylic dot inlays
12" radius

Melody Maker headstock

Gibson logo decal
"Made in U.S.A." stamp
17o headstock pitch

22 medium frets
24 9/16" scale
Corian nut
Electronics:
One uncovered 491T Humbucker

Ceramic magnet
14k Ohms D.C. resistance

1 Volume

Mounted on pickguard w/ output jack
CTS 300k linear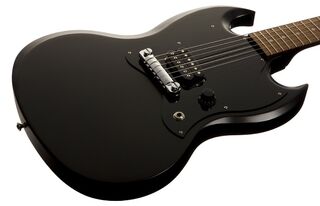 Hardware:
Chrome hardware
Grover "Gibson Deluxe" individual tuning machines

14:1 ratio
White oval buttons
Manufactured by Ping

Single-ply "Batwing" pickguard
Bell shaped truss rod cover
Black Bell knob
Angled wraparound bridge/tailpiece
Finishes:
Satin White
Satin Ebony
Satin Blue